Stayinn Freiburg: Hostel & Guesthouse
Your Great Value Central Accommodation in Freiburg
We have single, double, triple and four-bed rooms available in our hostel in Freiburg. All rooms are en-suite. No individual beds can be booked. This is to ensure that you can enjoy your privacy in our hostel as single traveler, with your partner, your friends or in a group One of our holiday apartments is situated in our guesthouse. Our other apartments are conveniently scattered around in the city centre, making StayInn Freiburg the perfect host for your stay.
Please note that since January 1st, 2014 we are obliged to charge 5% tourism tax, excluding business travelers.
Pick your room at StayInn Freiburg!
Overview
We are 500m away from the main train station (Hauptbahnhof) and the Freiburg Concert Hall, 800m to the University and 1,3km to the Freiburg Münster
We have 50 rooms spread across the 2nd and 3rd floor of our building, non-smoking only.
We will help with your luggage if needed (no lift available)
Rooftop terrace on the 3rd floor
Frühstücksraum & Gemeinschaftsküche zur Selbstversorgung
Self-catering kitchen and common area
Hostel & guesthouse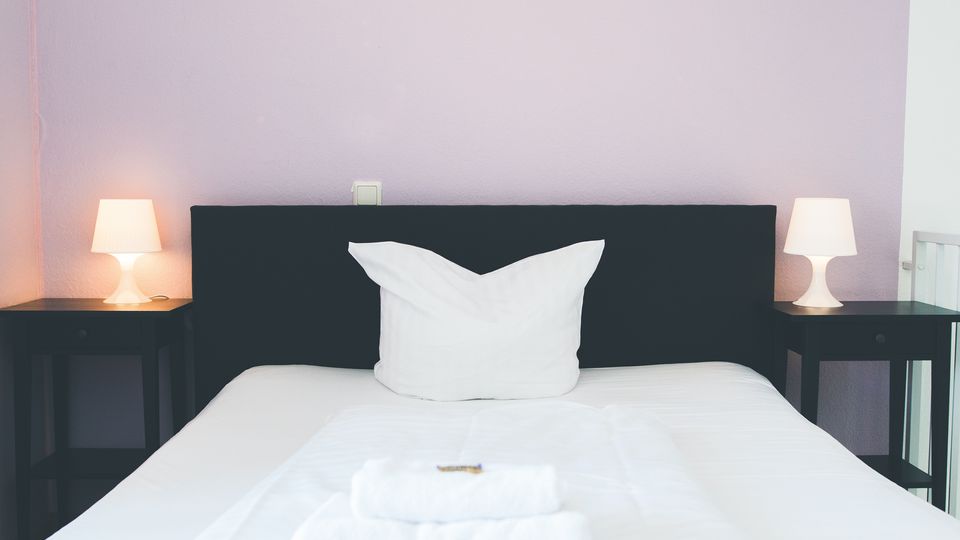 Standard single room
Room size: 25 m2
Standard single room
from  € 65.--   price per person
Room size: 25 m2
On the 3rd floor
Some on two levels, connected by stairs
One queen-size bed (140 x 200 cm)
Bathroom with shower and toilet
Other furnishings: table with 2 chairs, armchair, wardrobe, bedside table, refrigerator
TV in the room (cable TV)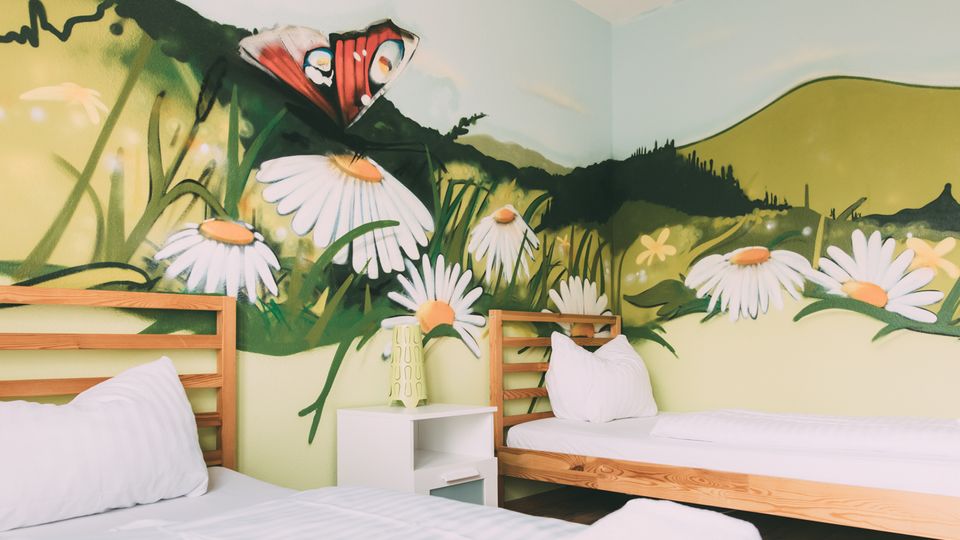 Budget double room with twin beds
Room size: 19 m2
Budget double room with twin beds
from  € 58.--   price per person
Room size: 19 m2
All rooms on the 2nd floor
Two twin beds (90 x 200 cm)
Bathroom with shower and toilet
Other furnishings: table with two chairs, wardrobe, bedside table, refrigerator
TV in the room (cable TV)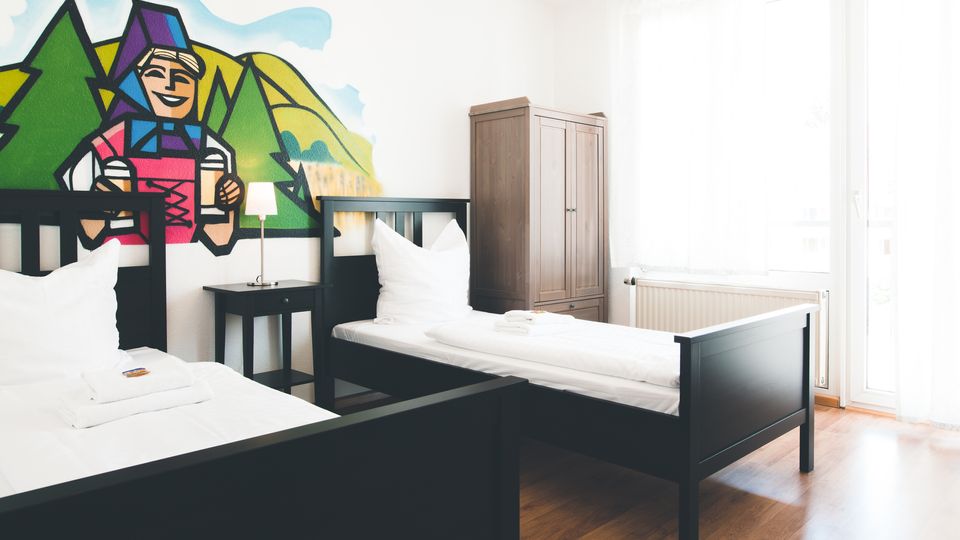 Standard double room with twin beds
Room size: 19 m2
Standard double room with twin beds
from  € 69.--   price per person
Room size: 19 m2
On the 2nd floor
Two twin beds (90 x 200 cm)
Bathroom with shower and toilet
Other furnishings: table with two chairs, wardrobe, bedside table, refrigerator
TV in the room (cable TV)
Refurnished in November 2015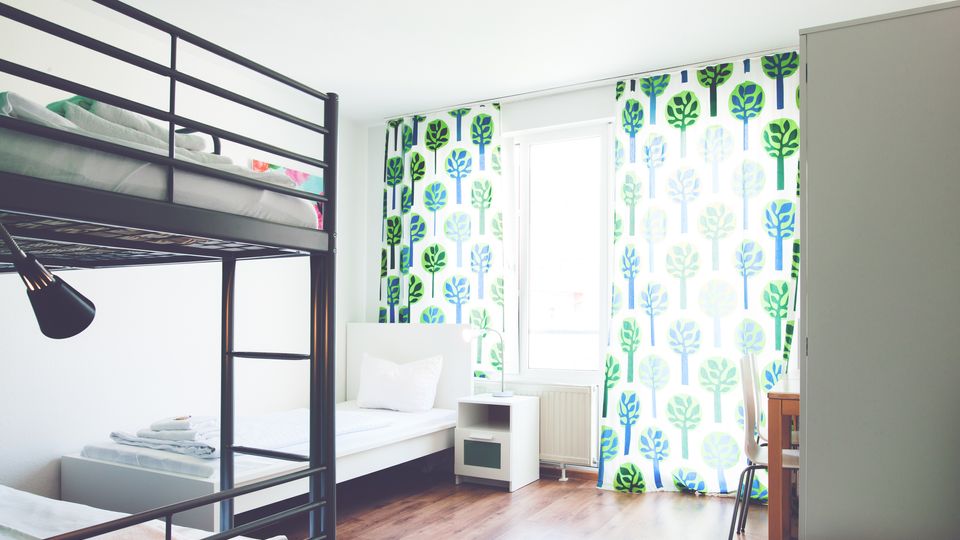 Budget three-bed room
Room size: 22 m2
Budget three-bed room
from  € 75.--   price per person
Room size: 22 m2
on the 2nd or 3rd floor
One bunk bed and one single bed or three single beds
Bathroom with shower and toilet
Other furnishings: table with 3 chairs, wardrobe, bedside table, refrigerator
TV in the room (cable TV)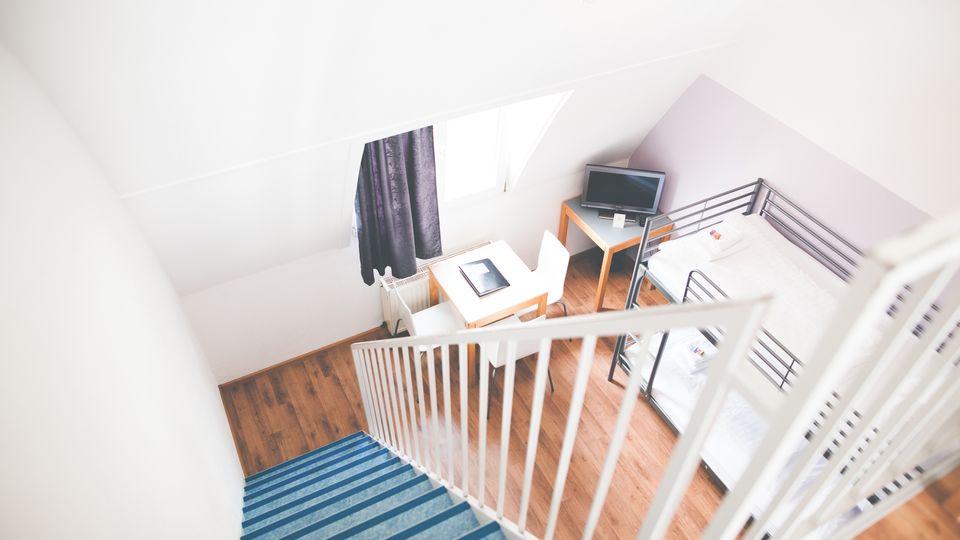 Budget four-bed room
Room size: 25 m2
Budget four-bed room
from  € 100.--   price per person
Room size: 25 m2
On the 3rd floor
On two floors, connected by stairs
Four single beds OR two single beds and one bunk beds
Bathroom with shower and toilet
Other furnishings: table with four chairs, wardrobe, bedside table, refrigerator
TV in room (cable TV)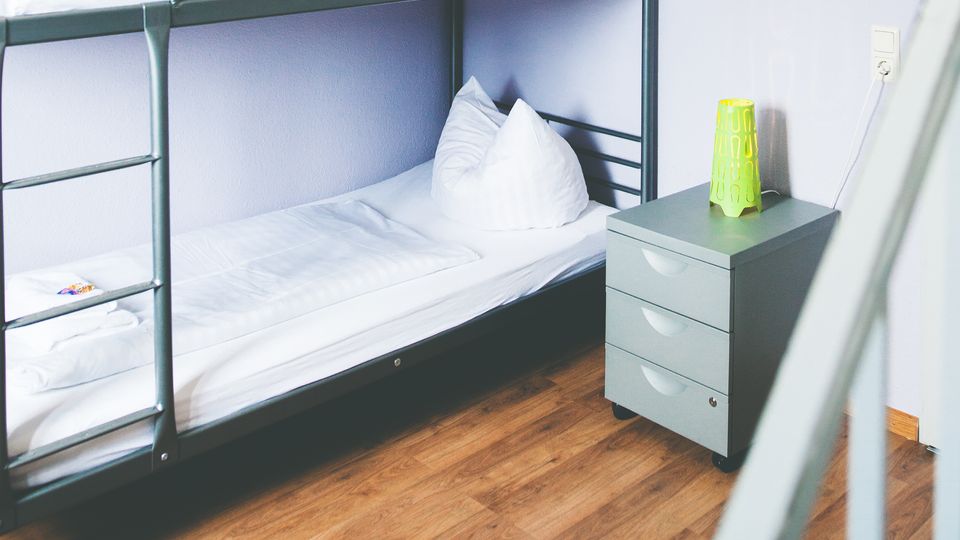 Family room
Room size: 26 m2
Family room
from  € 79.--   price per person
Room size: 26 m2
Double bed (140×200) and bunk bed
Bathroom with shower and toilet
Other furnishings: table, chairs, wardrobe, bedside table, refrigerator
TV in the room (cable TV)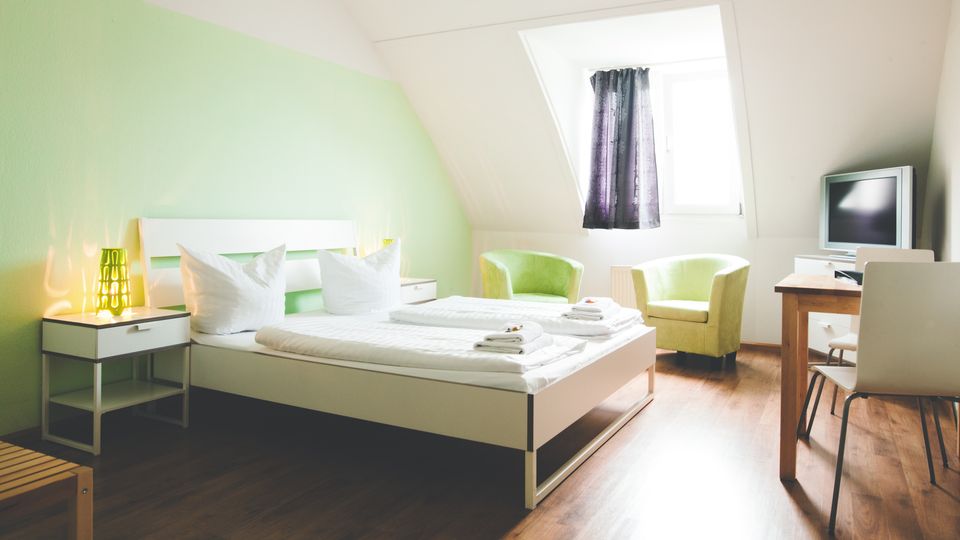 Standard double room
Room size: 26 m2
Standard double room
from  € 69.--   price per person
Room size: 26 m2
On the 3rd floor
One kingsize bed (160 x 200 cm)
Bathroom with shower and toilet
Other furnishings: table with 2 chairs, 2 armchairs, wardrobe, bedsidetable, refrigerator
TV in room (cable TV)